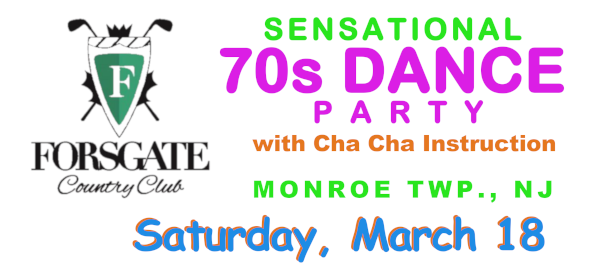 Special offer details and button below.
Saturday, March 18
Sensational 70s Dance Party
with
Beginner Cha Cha Instruction

~

375 Forsgate Drive Monroe Township / Jamesburg, NJ 08831
NJ Turnpike exit 8A
.
You are invited! Join Ralph, your host and 150 dancers from PBSN and 5 Meetups. Our gathering at this Middlesex County premier venue will be in the Highlands Grand Ballroom.

Cha Cha Beginner / Intermediate Instruction by Brandis and Jorge, 6:45pm Registration, 7pm to 8pm Group Instruction; no partner needed. The Cha Cha is fun with plenty of hip and pelvic movements.
Dance Party 8:00pm to 11:30pm. Sensational Sounds of the 70s. Expect to hear your favorite Hustle, Swing (East and West Coast), Latin ( Salsa and Cha Cha) Dance Songs and more. DJ Brandis and Jorge will be taking song requests from the 70s.

Dress to Impress. No jeans, No sneakers. Cash bar.

New faces welcome! This evenings event is sponsored by Professional and Business Social Network (PBSN) and several Meetup groups. We expect a fabulous crowd..
.
W H O _ W I L L _ B E _ T H E R E :
Please join us if you have a sense of humor, a generous spirit, and an overall positive attitude. Attendance may not be gender balanced.
.
A D M I S S I O N :
$25 at the door.
OR
$20 special offer. Click blue button below:

OR
Buy Tickets: Click green button below:

.
T E R M S _ A N D _ C O N D I T I O N S
.
C O N T A C T _ U S :
610-348-5544 ~ PBSNgatherings@aol.com ~ www.PBSNinfo.com
Professional and Business Singles Network, Ltd. PBSN

---